Home Page.



All the Android versions
Google is constantly working on new versions of the Android software. These releases are infrequent, about once a year.
Versions usually come with a numerical code and a name thatís so far been themed after sweets and desserts, running in alphabetical order.
Android 1.5 Cupcake
Android 1.6 Donut
Android 2.1 Eclair
Android 2.2 Froyo
Android 2.3 Gingerbread
Android 3.2 Honeycomb - The first OS design specifically for a tablets, launching on the Motorola Xoom
Android 4.0 Ice Cream Sandwich: The first OS to run on smartphones and tablets, ending the 2.X naming convention.
Android 4.1 Jelly Bean: Launched on the Google Nexus 7 tablet by Asus
Android 4.2 Jelly Bean: Arrived on the LG Nexus 4
Android 4.3 Jelly Bean
Android 4.4 KitKat: Launched on the LG Nexus 5
Android 5.0 Lollipop: Launched on the Motorola Nexus 6 and HTC Nexus 9
Android 6.0 Marshmallow for the Nexus 5, Nexus 6, Nexus 9 and Nexus Player
Android 7.0 Nougat for the Nexus phones.
Android 8.0 Oreo for the Nexus & Pixel phones.
Android 9.0 Pie 2018 for Google Pixel devices and the Essential Phone.
Android 10.0 the end of the cakes and ice creams.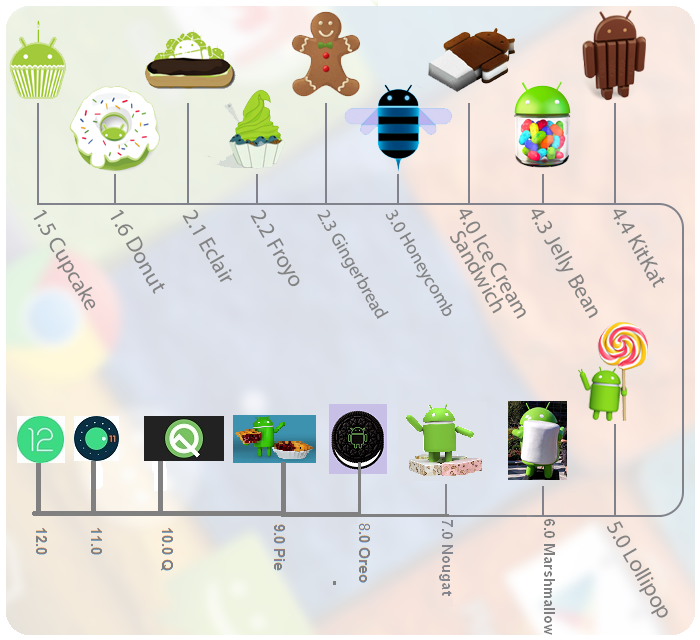 How do I get an update?

Android updates are normally received OTA (Over The Air), that is, sent directly to your Android phone without the need for a computer. Normally, once your Android phone or tablet is due to get an upgrade, you'll see a notification in the bar at the top of the screen. You'll then be prompted to connect to WiFi to avoid incurring extra data charges - updates can be quite big and downloading them over a mobile data connection isnít advised as it may result in expensive data charges.

Binary Systems
---