My Cars
My first kit-car was a 1987 T-Car, with 1200cc Datsun motor.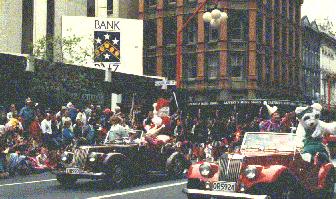 My second kit-car was a 1993 Swallow. The Swallow was sold in 2008 to a new owner in Christchurch.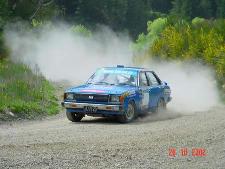 I bought this 1981 Datsun B310 Sunny in October 2003, and found a web page dedicated to it at http://www.sara-randall.co.nz/cars/Datsta.htm as the car had been actively rallied by Sara Randall in the South Island. This picture is from when Sara owned it. She married Richard Mason and co-drives for him, winning several NZ Championships.
I previously raced a Lynx
which had a 2L Ford SOHC Pinto motor, and it did very well at hillclimbs, gymkhanas and about 1m 14s at Pukekohe. This was sold a couple of years ago, but when you get the bug....
Datsta was set up for circuit racing. I took off the mudflaps and intercom, put in lower springs, fitted Yokohama race tyres (DOT type also road legal) moved the battery to the boot, put in an electric oil pressure gauge (hate those copper pipes that can fracture. I also fitted a 5 speed box which required welding a new mount 2 inches back. The 5 speed from an HR30 L20E 6 cyl Skyline is the same length as the 4-speed and has same spigot shaft & splines.

I added about 2 deg negative camber by slotting the front turret mounts.
Nov 13th 2004 MG Whittakers Manfield,

great weekend & social get together with the Sports Car Club. DATSTA went well, best time was 1m 32 putting him in the slower cars category. Better braking and cornering than the cars I was mixing with, especially when it was a wet track, but not enough grunt on the straights. Had to tighten a nut on the exhaust manifold :-), otherwise just added petrol.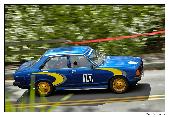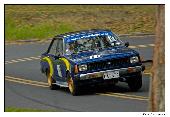 Competed in Gearbox Factory Domain Hill Climb 1st May 2005, 27.14 sec best time, came 40th out of 65 cars.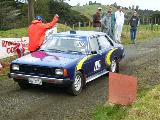 At Pukekohe 18th December 2005 I was running a couple of seconds down on my earlier times, so the decision has been made to sell Datsta back into rallying. It has been sold on TradeMe to a new owner in New Plymouth who will run the car in rally events.
My new race car!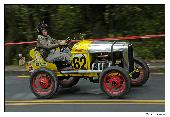 It's a 1928 Model A Special, made by Jim Baird, after a long life as a farm tractor. It was shortened 31 inches, has 4-wheel rod brakes, 3 speed crash box and the accelerator between the brake & clutch pedals.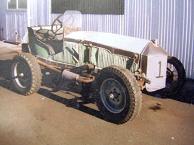 Jim said it was an 'ugly brute' and now it is 'ugly but yellow'.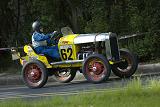 At the Domain Hill Climb May 7th 2006 I managed 37 seconds, which was still last of 63 cars, but it was by far the oldest car there and the time was better than Ken Williams 45 sec that he did last year.
At the new Taupo long track on 3rd June 2006 in the Capri car Club sprints I did an unofficial lap time of 3m 7 sec. That will be the lap record for 1928 cars on that new track!
A Two day event 23,24 September 2006 with the Hawkes Bay Vintage Car Club went well, I even won the Vintage Class on the Saturday at Te Onepu Hillclimb, and came second on Sunday at Pukeora. But a 1906 Darracq of Anne Thomson's was 20 seconds quicker up the hill than me, and arrived driving on the highway, no trailer! Luckily, she ran in the veteran class!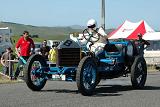 At the VCC hillclimb at Chelsea Sugar Works the car went well, 44.0 seconds best time!
Otaua Hillclimb 4 March 2007 car went well, no problems. Ran 12 events in the MANZ logbook. The Model-A has now been sold to a UK owner
In January 2007 I bought and completed an historic racer, the Orchid Special 1960.


Built 1959-1961 by Keith Yeats, with 100E motor and Elva overhead valve conversion, SS100 close ratio gearbox, mechanical brakes, Ford10 front & rear suspension, rear radiator. Built on a special tubular chassis originally intended for a Mistral body, but the Buckler body was fitted instead.
Ran successfully in hillclimbs in the Auckland area,1961 to 1964. It was called the Orchid, because Keith had just read a book about Lotus cars.
Re-discovered as a chassis and body by Barrie Suckling in the 1970's and rebuilt with the Mk1 Cortina Motor & gearbox, Cortina GT diff & 5-link suspension, and more recently had the Herald front end and disc brakes grafted in. First event was the SCCNZ sprints at Pukekohe 8th April 2007. It was run in various MANZ track and VCC hillclimb events until the end of 2008 and is has now been sold to Austria.
Land-Rover V8 - fitting a Proform 67088 HEI distributor.
Click on these images for a larger version.
I have a Series 3 Land-Rover 109 V8 (also called a 'Stage 1') and I wanted to replace the old Lucas points distributor with a modern solid state unit. I settled on the Proform HEI 67088,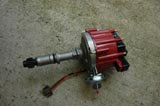 designed to drop into a Buick 215 which is the same block design as the Rover V8. It came from the USA in about 2 weeks, the box contained no instructions. The dizzy has a built-in coil, you just connect 12V and it makes 50,000 volt sparks.
I set the engine at TDC on #1 and removed the Lucas distributor.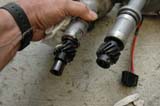 You can see that the oil pump drive is a different length. I drove out the pins and swapped over the gears. I had to cut off about 4mm of the shaft.
When I tried to install the new Proform dizzy, it seriously fouled the intake manifold, so much that I had to sleep on grinding away large chunks of it including some of the manifold bolt. The dizzy still had about 25mm (1") to drop down.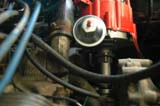 Anyway, careful use of an angle grinder let it drop in. A little had to be ground off a part of the cap where it could not fit into the small gap.
In hindsight, I should have bought one of these Pertronix Flame Throwers D175510 that are a bolt-in HEI replacement for Rover V8.

Return to Binary Systems Home Page