Genealogy Books

Where did the ST GEORGE name come from?
There are two ST GEORGE families in New Zealand, and neither of them go back many generations. Being one of them myself, I have spent quite a few years trying to see why the surname should have been chosen in the first place. I have come across several examples, listed below, which show that it was fairly common to add the ST prefix to GEORGE in the 1800's and the origin is invariably from a surname GEORGE, but a little removed. My investigations at the NZ National Archives found that a surname could be used pre-1900 if the person was known 'by repute' with that name. So no formal name changing process existed at that time.
ST GEORGE / JATER
My gt-grandfather (1833- 1914) was raised as William Montgomery JATER, in Byfleet, Surrey. There are no birth records for him that I have currently found, although they are available for the rest of the JATER family. Family rumours are that he was a step-child, and also that he 'left England for England's good' but that's another story. He married Emily Jane STEWART b 29 June 1846 Manchester, England, d 21 Dec 1895 Papakura, NZ. They were married 21 July 1869 at Mangawai, NZ, when he changed his surname to ST GEORGE.
Interestingly, he gave the middle name MONTGOMERY to 5 of his 6 sons. My current research is for a William born about 1833 to either MONTGOMERY or GEORGE, around the Surrey area, but not in Surrey (ref 1841 census jater.txt). I am currently interested in a William MONTGOMERY, son of George and Mary MONTGOMERY b 7 April 1833 St Mary Parish, Walthamstow, Essex, ENG. IGI Batch I100023. Any info would be most appreciated.
Update 19th Dec 2007. We were in Byfleet in Sept 2007, and took a look around.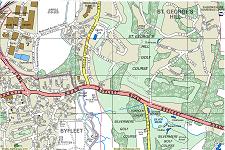 this map of Byfleet shows St.George's Hill about 1km from Byfleet. Click on 'Large Map' to see all the road names. No further St George connections were found. Surrey Family History centre had mainly IGI files that are already on the Net.
ST GEORGE / DURANT
The other ST GEORGE family in New Zealand are descended from a GEORGE DURANT, who had two wives (1) Marianne ELD, (2) Celeste LEVEFRE and a mistress Mary Joan BRADBURY. The children born to the mistress were surnamed ST GEORGE, and were:
George Hanbury Faraday ST GEORGE 1808-1893 m Matilda Jane SHAW (1820-1876)
Edwin ST GEORGE (1810-1893)
Leonard Henry ST GEORGE (1811-1829) m Emma ?.
This family in New Zealand has been very well researched and documented.
Captain John Chapman ST GEORGE
Captain John Chapman ST GEORGE was born in 1844, the son of Mrs GEORGE. (She had another son, Major Frederick GEORGE). Captain John St George was killed fighting Te Kooti with a charge of 200 Arawas at the Te Porere redoubt near National Park (about 10 km from the Chateau) that can still be visited. He also owned land near Taupo and was the first to drive a flock of sheep from Napier. After he died he was buried on the shores of lake Taupo, and was subsequently disinterred and re-buried in Napier with full military honours. Here is his gravestone:
.
The GORTON family
Lt Col Edward GORTON used ST GEORGE for the middle names of his family. This was derived from his mother's name Eliza GEORGE. Edward's parents were Robert GORTON, clergyman of Badingham, Suffolk and Eliza GORTON (nee GEORGE).

Edward GORTON married Nora Mary STEPHENSON-SMITH in 1863. The children in this family were:
Ada St George GORTON b 1864 m Falconer Balson LARKWORTHY 11 Aug 1892 Belstead Suffolk ENG.
Nina St George GORTON b 1865
Norman Ballantye (or Valentine) St George GORTON b 1866 in Wanganui.
Russell St George GORTON b 1869 d 1873 in Wanganui.
Hilda St George GORTON b 1871 Palmerston North.
Denis St George GORTON b 1876.
Edward St George GORTON b 1871
Another St. George
Graham St.George, of Nice, France tells me:
I have a parallel and similar geneological linkage with a Great Aunt, Edith Mary George on my father's side, whose brother ( my Grandfather )David George changed his name to St.George at the beginning of the century for business purposes.
Maybe you can add to this? If so, please contact me at

. Sorry you can't cut & paste that, as it is an image for spam protection.
Still looking? Try